Tags
Advent, Christmas, church, hope, Hope in Disarray, Logos(ish), Pilgrim Press, podbean, podcast, Spirit, Youtube
It was a joy to be on Logos(ish) podcast to discuss my latest book, Hope in Disarray. Listen to the podcast and read the book.
Religion & Spirituality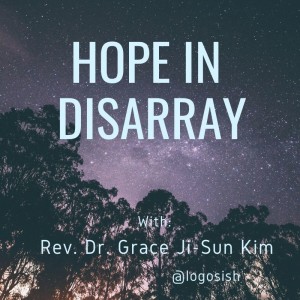 Season Finale– Hope in Disarray w/ Rev. Dr. Grace Ji-Sun Kim

2020-12-24iOSAndroidShare
Hope is an anchor. Hope is a risk. What can we learn from Taylor Swift's breakups? This week we talk to Rev. Dr. Grace Ji-Sun Kim about her new book Hope in Disarray: Piecing Our Lives Together in Faith. Also, Jon has controversial opinions about New Girl. Will Sara and Garrett kick him off the podcast?
Find Rev. Dr. Grace Ji-Sun Kim here: https://gracejisunkim.wordpress.com
Buy the Book: Hope in Disarray | Piecing Our Lives Together in Faith
ADVANCE PRAISE
In her urgent call for solace in a world caught in the crux of disorder and chaos, Dr. Grace Ji-Sun Kim offers this anthology of meditations on our individual plight to nurture hope. Hope in Disarray imparts the architecture of hope through pieces of the modern world, giving relevance to our effort to enhance the relationship between the mind, the spirit, and the divine.
—Rev. Jesse Jackson Sr., President and Founder of Rainbow PUSH Coalition
In her timely collection of essays, Hope in Disarray, Dr. Grace Ji-Sun Kim offers an accessible, personal, honest, and inspiring examination of real-world problems and the possibilities of hope in the midst of struggle. Each essay reads as a meditation that brings together mind, heart, and body.
—Susan M. Shaw, author of Reflective Faith: A Theological Toolbox for Women
More than an invitation, Hope in Disarray is a passionate and personal summons to conscious and compassionate living. Ranging through terrain as rough and varied as climate change, racism, gun violence, and sexual abuse, this book challenges readers to examine our comfortable certainties, imagine a more just world, and take action to bring it into being.
—Dr. Laura Alary, writer, storyteller, and educator
I turned the last page with a fresh infusion of inspiration to live a life of compassionate, sustained action, no matter how difficult the challenges.
—Brian D. McLaren, author of The Great Spiritual Migration
HOPE IN DISARRAY
"In difficult times, we can only run on hope."
With practicality and vulnerability, author and public theologian Grace Ji-Sun Kim reflects on the practice of sustaining hope during turbulence and injustice. Hope in Disarray is a collection of essays that invite a conversation on culture and faith, creation and identity, as the author appeals to readers to engage life's troubles with the conviction of God's goodness.
Hope in Disarray takes the world's pain seriously in order to ignite our intentional, revolutionary, and integrated living.
Foreword by Mitri Raheb. Afterword by Elizabeth Hinson-Hasty.
ABOUT THE AUTHOR
Grace Ji-Sun Kim is a prolific author and public theologian, whose 19 books include Embracing the Other: The Transformative Spirit of Love and The Holy Spirit, Chi, and the Other: A Model of Global and Intercultural Pneumatology. Kim is a Professor of Theology at Earlham School of Religion. Her first book, The Grace of Sophia: A Korean North American Woman's Christology, was published by The Pilgrim Press in 2002.
Paperback: 128 pages (8.5″ x 5.5″)
ISBN 978-0-8298-2114-7
2020