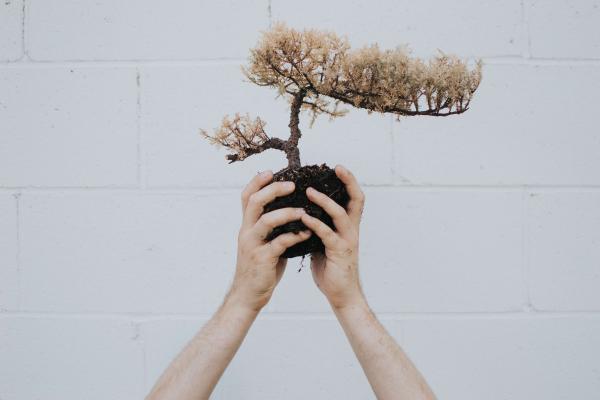 Climate change is not a future disaster. It's a present-day earthly trauma with colossal repercussions that many scientists warn can no longer be entirely reversed. So how do we maintain hope when our earth is brutalized daily by the climate disasters brought on by human greed, denial, and consumption? Is hope still useful or honest as the Amazon burns, shorelines disappear, and water grows toxic? Sojourners asked three Christian leaders how they imagine —or reimagine — hope in the face of climate catastrophe.
Rev. Dr. Grace Ji-Sun Kim is an Associate Professor of Theology at Earlham School of Religion, and the author or editor of 17 books including Reimagining Spirit, and Embracing the Other:
When we hope, we are taking a certain risk into our hands. This risk is a quiet virtue, an expectation toward something that does not belong in the past or present, or in the material world at all. It is an expectation toward the unknown distance ahead of us, where nothing is seen and nothing is possessed. So, though we yearn to eventuate a future that does not exist, we continue to reach out because we believe it nonetheless. We have to believe in bettering. We have to believe in the lives that come after us. The children, the generations, the nations that will have to endure the fragmented and destructed earth that we have actively created. We occupy a single place in creation and are interdependent on the network of creatures and environments that we have taken into exploitative possession. Taking care of God's creation is essential in the plight to live a righteous life. We have strayed so far from it.
There is only one direction in this climate change: forward. We are accelerating fast, and increasingly so, into the worst environmental crisis of our world, and the only option is to rebuild; to commune, to fight for effective change, and hope for our brother and sisters to join us and continue the battle. Hope is anchored to the very presence of God, the "inner place" that dwells without discernment. The anchor is not in the very place the ship is in, rather a place removed from it, a greater, holier place. The place we are in now will not recover from us simply hoping. We must take action. We must be vigilant. We must employ sustainable practices, vocalize our plans for change and support those who are both leaders and newcomers to this monumental issue. This is not a social issue, this is not a political issue, this is an all-encompassing living issue far greater than human life.
(**For the rest of the article, please go here.)